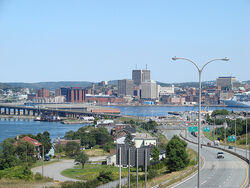 Downtown Lily, sometimes referred to as Downtown Mapleview by visitors outside of Mapleview, is the central business district (CBD) for the City of Mapleview. The area is generally described to be bounded by Wayside River to the west, New Leaside Crescent to the north, Victoria Park Avenue to the east, and Sobeys Road to the south.
Rarely referred to as Downtown Mapleview, despite the locale is the CBD of Mapleview, the locale received its name from the backbone road of the area, namely Lily Street North.
Downtown Lily is home to many companies of the Gravenhurst Region (Western Division). It houses most of the commercial jobs in the City of Mapleview. It attracts residents to commute here from far and wide.
The tallest landmark in the locale is the Royal Maple Office Building, standing at 47 metres above ground.
Downtown Lily was first seen in road signs, mounted along Highway 11 in 1983. The sign directs travellers to the downtown core.
Notable Places
Edit
Headquarters of Mapleview Transit
Headquarters of Mapleview Foods
Headquarters of the Mapleview Gazette
Transportation
Edit
The central business area is served primarily by Lily Street. Public transit sources include Mapleview Transit route 35 'Victoria Park - Lily', and the nearby Downtown MT Station. The MT station serves the rapid transit line running across town, and also connects to other conventional bus routes.