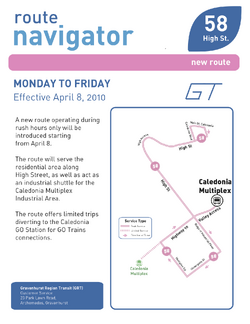 Route 58, also known as High Street (French: rue High), is a bus route operated by Gravenhurst Regional Transit during weekdays' rush hours only, serving the entire length of High Street and the Caledonia Multiplex Industrial Park, in Caithness-Caledonia, Gravenhurst Region.
Route 58 was first proposed in 2008, when the residential area along High Street began occupation, and when the industrial park began constructions. The number designation '58' was originally going to be assigned to the proposed "Brant" route in Guelph, but was later decided in early 2010 that the number be assigned to the High Street route. The route officially launched on April 8, 2010, but since April 8 was a Census Holiday, and April 9 was yet another public holiday, the route did not actually operate until April 12, 2008.
Ad blocker interference detected!
Wikia is a free-to-use site that makes money from advertising. We have a modified experience for viewers using ad blockers

Wikia is not accessible if you've made further modifications. Remove the custom ad blocker rule(s) and the page will load as expected.