This article is about the waterfall. For the surrounding community, see Ingrid Falls, Gravenhurst.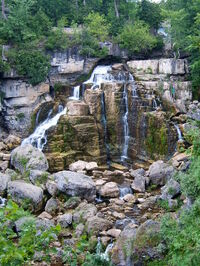 Ingrid Falls (French: Chute d'Ingrid), formerly named as St. Ingrid Falls (Chute de Sainte-Ingrid) is a waterfall in the community of Ingrid Falls, in the Town of Caithness - Caledonia in Gravenhurst Region.
The waterfall was formerly named after St. Ingrid, the patron saint of the community, upon establishment of the parish of Caithness - Caledonia in 1724. The waterfall was then renamed as simply "Ingrid Falls" in 1901.
The waterfall is 29.4 m high, 12.8 m wide. The basin of the falls is 3.5 m deep. The waterfall is a result of the Escarpment River draining down the Isaac Newton Escarpment and down the Caledonia Valley. The Escarpment River empties into Lake Caledonia at the bottom of the valley.
Ingrid Falls Park
Edit
The waterfall is protected by Ingrid Falls Park (French: Parc de la Chute d'Ingrid), and serves as a tourist information centre of the area. The park is currently maintained by the Town of Caithness - Caledonia Parks Department.
There are currently plans to upgrade the existing Ingrid Falls Park into a regional park, due to the popularity of the falls among tourists, and the geographic value of the falls. The Gravenhurst Regional Park Commission (GPRC) says this may be possible by 2017.
Ad blocker interference detected!
Wikia is a free-to-use site that makes money from advertising. We have a modified experience for viewers using ad blockers

Wikia is not accessible if you've made further modifications. Remove the custom ad blocker rule(s) and the page will load as expected.