---
For GO Station with the same name, see Jones GO Station.
---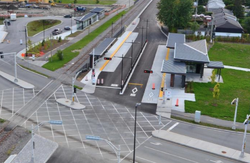 Jones is a Vivastation on the Viva Pink and Viva Green lines in Vandehogan, Gravenhurst. The station is located at the intersection of Kathryn Gate and Tersion Line. The station primarily serves the residential community of Tersion and Korea Town. The Vivastation is named after a connected GO Transit station, Jones GO Station.
Jones Vivastation is connected to Jones GO Station on the McAssure Corridor Line, and GRT Route 114.
Opened in 1997, the station is one of the first built station in the Viva system, and had served Viva Pink solely until 2010. In 2010, with the opening of Viva Green, the station began serving the line as well.
As connected to Jones GO Station, the northern terminus of McAssure Line, and the strategic location of the station being on the fringe of residential and industrial developments, this station is one of the busiest in the system.
Platforms Layout
Edit
Platform 1 - Viva Pink Northbound, Viva Green eastbound (rush hours only)
Platform 2 - Viva Pink Southbound, Viva Green westbound (rush hours only)
Exits Layout
Edit
Ad blocker interference detected!
Wikia is a free-to-use site that makes money from advertising. We have a modified experience for viewers using ad blockers

Wikia is not accessible if you've made further modifications. Remove the custom ad blocker rule(s) and the page will load as expected.