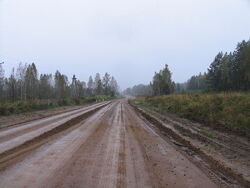 Lanthanide Road (Traditional Chinese: 稀土公路; Russian: лантанидов Дорога) is a 135-km wilderness road on the north shore of Lanthanide - Actinide Island in southern Periodic Region, servicing the two communities on the island. The road is largely not maintained and is paved in gravel and mud. During the semiannual rainfall season (in late autumn and in early spring), the road is not accessible.
Lanthanide Road was built during the region's Russian-administrated period, and currently serves as a main mean of transport on the island.
Ad blocker interference detected!
Wikia is a free-to-use site that makes money from advertising. We have a modified experience for viewers using ad blockers

Wikia is not accessible if you've made further modifications. Remove the custom ad blocker rule(s) and the page will load as expected.