Much Ado About Love
無事生愛

Genre

Pre-modern drama (1940s)
Modern sitcom

Cast

Nancy Sit
Benjamin Yuen
Steven Ma
Yoyo Mung
Linda Chung
Fala Chen

Theme songs

Relentless Love (無情有愛)
by Linda Chung

Country of origin

Language

Cantonese
With Traditional Chinese and English subtitles

Number of episodes

370

Running time

25 min. per episode

Channel

CZTV Jade

Running dates

22 August 2011 - 28 December 2012

Time slot

20:00 - 20:30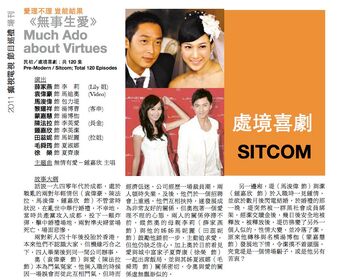 Much Ado About Love (Traditional Chinese: 無事生愛), initially titled as Much Ado About Virtues in the 2011 CZTV Sales Presentation, is a modern sitcom involving time travelling from the 1940s warring period, is a productions by the Crazy Television Broadcasts Limited (CZTV). It is broadcasted on the Jade Channel, the Cantonese-language channel for the Imaginary Lands of Nicholas, every weekday at 20:00 - 20:30, beginning 22 August 2011, until 28 December 2012. The background of the story and the filming is taken place in Long Region.
The name "Much Ado About Love" is a wordplay on the Shakespearean play "Much Ado About Nothing", though the two productions have no relationships in almost every aspect.
Originally planned to be 120 episodes, the high popularity of the series led to an extension, with the finale date extended to 28 December 2012. Some entertainment news sources originally claim it to be sometime in mid-2013, but in the end, the series lasted 370 episodes.
In 1949, the Chinese Civil War was ongoing in Mainland China. Two pairs of couples were having a wedding in Chengdu, when the People's Liberation of Army was attacking the city. The church the wedding was held in was bombed, and the four people went through a time tunnel into the modern era. In the Imaginary Lands of Nicholas in the 2010s, the four people met again in a firm that they work for, and becomes lovers again. But through this time, many conflicts between the characters happened, causing many unnecessary funny episodes in life.
Viewership ratings
Edit
Viewership mostly between 19 - 27% during the run so far.
Ad blocker interference detected!
Wikia is a free-to-use site that makes money from advertising. We have a modified experience for viewers using ad blockers

Wikia is not accessible if you've made further modifications. Remove the custom ad blocker rule(s) and the page will load as expected.