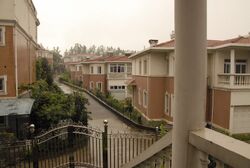 Parkthorn Heights is a community in the quarter of South Archemedes. Located in the extreme south end of the City of Archemedes in Gravenhurst Region, the community serves as a planned support city for the nearby Archimedes the Great International Airport.
Parkthorn Heights is bounded north by Parkthorn Heights Road, east by Old McCallister Avenue, south by Airport Expressway, and west by Highway 2.
Parkthorn Heights is conceived in the early 2000s, when discussions of a new, larger international airport began, as part of the Airfield Regional Initiative (ARI). In the mid 2000s, the location was set firm to be over the former Reserve I-003, just 12 km east of Guelph South, and just northwest of the limits of the Township of Muskoka Lake. Parkthorn Heights is designed to be a support city for the airport, especially housing accommodations for flight personnel and people working in the airport. Approximately 3,200 people live in the community, and overwhelmingly a large proportion are employees of the nearby airport.
Parkthorn Heights is designed to be a privately owned estate and operated by an independent management company.
Construction began in 2006, and occupancy began in early 2009.
Design and Community Amenities
Edit
The community is built on a basis of ring roads. There are three ring roads in the community. There are detached houses along the ring roads. In the centre ring road, there is a large community park (Parkthorn Centre Park) with a fountain. There are access roads from each of the cardinal directions, linking the ring roads and leading to Parkthorn Centre Park. At the northern edge of the community, there are convenience stores, shops, and a post office. Behind this strip mall, there is a train station (Parkthorn Heights GO Station) on the Gravenhurst Corridor Line.
Residents require to use amenities such as community centres are required to travel 18 km north to the nearest Crowfoot Community Centre. The municipal government claims that the population of long-term residents in the community is below the threshold, and refuses to build a similar facility in the area.
Transportation
Edit
The proximity of the community to Archimedes the Great International Airport makes transportation network very complex for a small community like Parkthorn Heights.
These are the different types of transportation available in the community.
Public Transportation
Edit
In the future, it has been proposed that there are rapid transit introduced in the community, with the extension of The Linx system. Existing public transportation option includes:
Quarters and Neighbourhoods of the City of Archemedes
Ad blocker interference detected!
Wikia is a free-to-use site that makes money from advertising. We have a modified experience for viewers using ad blockers

Wikia is not accessible if you've made further modifications. Remove the custom ad blocker rule(s) and the page will load as expected.