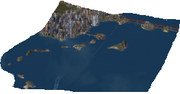 The Tsang-Mo-Um-Sha Archipelago (Traditional Chinese: 曾母暗沙群島) is an archipelago, or a group of islands, located just off the shore the City of Old Watersauga. The archipelago consists of 11 populated islands, along with a few other uninhabited islands and shoals, spreading over in 4 different municipalities within the City of Watersauga. The archipelago was formed as a result of the delta of the Dawson River flowing into the Watersauga Harbour and the Pacific Ocean.
The nearby Tung Lung Islands are sometimes considered as part of the archipelago.
List of islands
Edit
Listing the islands from north to south.
Ad blocker interference detected!
Wikia is a free-to-use site that makes money from advertising. We have a modified experience for viewers using ad blockers

Wikia is not accessible if you've made further modifications. Remove the custom ad blocker rule(s) and the page will load as expected.