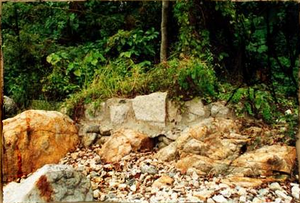 Tuen Mun Old Customs Station redirects here.
Tuen Mun Island (Traditional Chinese: 屯門島) is a small uninhabited island in the Township of Clifton Island in Gravenhurst Region.
Tuen Mun Old Customs Station
Edit
The island features the ruins of Tuen Mun Old Customs Station (Traditional Chinese: 屯門島稅關遺址). In the 15th century, when European explorers began exploring up the Dawson River and trading with the locals in the area near Lake Haldimond. The First Kingdom of the Imaginary Lands of Nicholas established customs stations along various sites of the river, requiring all foreigners to pay taxes for their goods when entering the kingdom. Tuen Mun Old Customs Station, according to literature, was one of the highest-traffic customs station in the kingdom, generating the most revenue. The heavy taxes charged at the station is also one of the factors that led to the Multi-Cultural Revolution, eventually leading to the kingdom's collapse.
What is left of the station today is a small stone house and a stone slab beside the house denoting the station's name.
In 1996, the government of Gravenhurst has enlisted it being a "Regional Grade 2 Historic Building". In the following year, the kingdom has also enlisted as a "Kingdom Grade 2 Historic Building", claiming that the custom station is a "building of special merit; efforts should be made to selectively preserve".
Ad blocker interference detected!
Wikia is a free-to-use site that makes money from advertising. We have a modified experience for viewers using ad blockers

Wikia is not accessible if you've made further modifications. Remove the custom ad blocker rule(s) and the page will load as expected.